Lego Ahab and Jezebel


Directed by
Valente Q. Castro
Written by
Valente Q. Castro
(adapted screenplay)
Music by
"Africa" by Toto
Release date
February 4, 2010
Studio
Quintero-Castro Studios
Distributor
QuinteroCastroFilms
IMDb
[1]
Lego Ahab and Jezebel is a 2010 biblical brickfilm directed by Valente Q. Castro for Quintero-Castro Studios.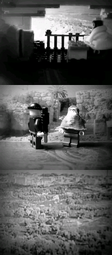 Ahab, king of Israel, overlooks through his balcony a large vineyard. When he interrogates the guard Obadiah about the vineyard's owner, the guard tells him that the owner is Naboth of Jezreel. Ahab then sends him off to ask Naboth for the vineyard. The guard takes Naboth to the palace and then Ahab tries to bribe him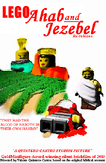 with a chest of jewels, but Naboth refuses and leaves. Jezebel then appears in a cross-fade manner to find a depressed Ahab. He informs her of the vineyard issue and then Jezebel tells him to not worry about it, because she will find a way to obtain it for him. The next morning, she sends a royal letter that decrees the townspeople to give false testimony against Naboth, and to stone him to death. Naboth is taken, judged, and stoned until he is left dead on the floor. After this, Elijah is called by God to confront Ahab and Jezebel, which he does, and warns them about their future deceases.
Minifigure characters
Edit
Ahab: Childlike, headstrong king of Israel.
Jezebel: Villainous, selfish queen of Israel.
Elijah: Prophet of God, fair and righteous man.
Naboth: Old, conservative farmer that owns a vineyeard.
Obadiah: Obedient, serious guard of Ahab's palace.
False witness #1: Man that bears false witness to Naboth.
False witness #2: Man that bears false witness to Naboth.
Elder: Israelite priest who judges the city.
Woman at stoning #1: Tchiya, Naboth's wife, played by Anastacia Gómez
Woman at stoning #2: Sapphira, Naboth's daughter, played by Delia Castro-Gómez
Production
Edit
The brickfilm used sets that were used in other films, the "Jezreel City Gate" set was from Lego Joan of Arc, the "Palace Quarter" set was from Valente Q. Castro's The Ten Commandments, and the Samaria background was from Lego Jezebel. Some costumes were also borrowed, such as Jezebel's clothing was actually Nefretiri's dress in Valente Q. Castro's The Ten Commandments, as well as Ahab's royal wardrobe was indeed Sethi's Pharaoh apparel. These props were borrowed from these films, which are not yet released.
Award and nominations
Edit
References
Edit
External links
Edit
Lego Ahab and Jezebel at the Internet Movie Database
Community content is available under
CC-BY-SA
unless otherwise noted.