We're Getting Mutants in the MCU - The Loop
Play Sound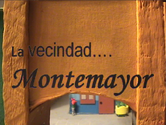 La vecindad Montemayor (English: The Montemayor Apartments) is an upcoming American made-for-Mexico comedy brickseries produced by Quintero-Castro Studios, and directed and created by Valente Q. Castro. The series revolves around the owner and inhabitants of an apartment complex in the fictional Mexico City neighborhood, Colonia Maximiliano y Carlota. The brickseries was based on a brickfilm released under the name of La Vecindad Montemayor: Nana's Animals.
Background story
[
]
During the building expansion of Mexico, rich fortune-heir Urías Montemayor y Cerrochico graduates as an high-class architect and later becomes one and receives world-wide prestige as he designs innovated. Being barely twenty years of age, Urías travels to pomote his work around the world, and later arrives in 1941 in Mexico City to plan normal average-housing complexes in the city's outer suburban areas. He is well received, and exclusively plans a conservative-style complex, which he names the "Vecinclásica". With the success of that architectual model, there were more than 100 built, his eye is on a more art-deco style. His next plan is the modern, art-deco style housing complex, "Vecindinámica", and this last one has 200 built all over Mexican metropoli such as Guadalajara, Monterrey, Puebla, and Veracruz. However, his enemy and rival engineer Manuel de la Torre y Castillo, oversees the constructions, he adds more sand in the concrete then planned, because of his constant hate and envy toward Montemayor. This causes Montemayor major difficulties, and he is condemned of his work and profession, and is refused to plan any more governmental charity projects. He retires in 1943, spending his fortune, piece by piece in Jalisco, at an estate called Corral del Oro. In 1950s Guadalajara, he meets Catalina Lascuráin Dónde, a young lady daughter of a retired lawyer. They married in 1960, and never produced any children. They relocated to Mexico City in 1980, to find out that one of the "Vecindinámica"s survives. It is in bad condition, but is partially restored, and rented out to Saul Regalado and American film historian Beverly Huston. The Montemayors move to their estate peacefully. In 2011, Montemayor dies and leaves his fortune to Catalina; as well as the last "Vecindinámica".
Characters
[
]
Episodes
[
]
"

Los nuevos inquilinos

"
"

Se quema la vecindad

"
"

Llega la hungara Inez

"
"

Braseros al norte

"
"

Se vende la vecindad

"
"

La vecindad en la nieve

"
"

La vecindad en Paris

"
External links
[
]