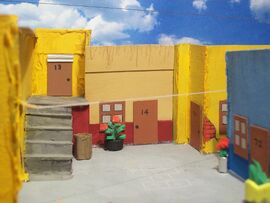 La Vecindad is the fictional neighborhood setting of Lego El Chavo, and a miniature model of the original vecindad from El Chavo del Ocho.
History
[
]
La vecindad was first constructed in about 1867 as Le Fort d'DuBeau, in Spanish it is called La Contrafuerte de Dubó, one of the strongholds for the French army. After the French fled from Mexico, the fort was given to Gen. Philipe DuBeau's wife, whom had recently widowed. However she sold it during the Porfiriato, and it was later bought by Coronel Villegas Mendoza, a revolutionary. After the Mexican Revolution, Villegas Mendoza destroyed the original documents to the property. The fort remain in discretion, and its history from then on was that Coronel Villegas Mendoza had acquired it from a rich hacendado. In the 1940s, it was bought by Don Nerón Barriga Espeso who passed it down to his son Zenón Barriga Bola, it's current title holder.
Homes in La Vecindad
[
]
13 is where Jaimito El Cartero lives, it is located on the second floor up the stairs.
14 is where Doña Florinda lives with her spoiled son, Quico. The apartment has a rose bush in front of the window.
71 is where Doña Clotilde lives. Inside her apartment, the walls are painted a bright salmon. The kids of la vecindad think she's a witch, hence the name, La bruja del 71.
72 is where Don Ramon lives with his ever-happy daughter, La Chilindrina. A pot with aloe vera sits outside and in the interior of the home, a potrait of La Chilindrina along with a Nexaca flag are hung on the wall.
Commerces in La Vecindad
[
]
Tienda "De La Esquina" is the corner store of la vecindad, which is located on the la vecindad's street facade.
Restaurant "Doña Florinda" is the restaurant that is owned by Doña Florinda. It is located to the right side of Tienda "De La Esquina", the restaurant also is next to the vecindad's entrance.